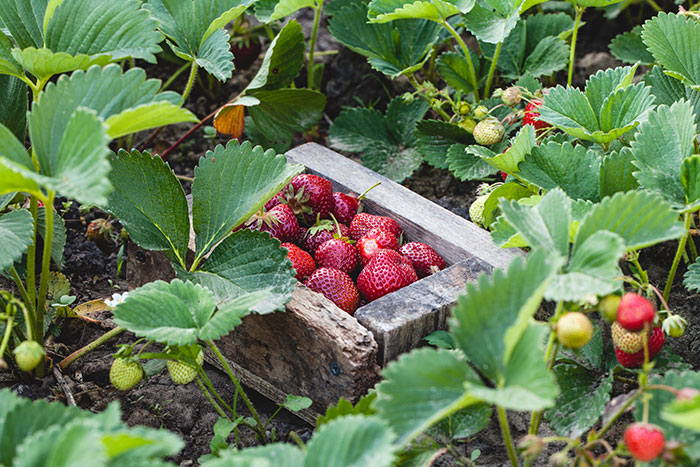 Benefits of Growing Your Own Strawberries & Strawberry Nutella Hand Pies Recipe
For the last several weeks we've been talking about growing your own strawberries, either in pots or in your garden. There are so many benefits to growing strawberries and here are a few of our favorites:
Better taste. There's nothing wrong with store-bought strawberries or farm-stand berries, but berries you grow yourself – especially the varieties we sell which are typically not used by commercial farmers – will almost always taste better than ones you buy.
Better for you. You control what goes into each berry. By this we mean, water, pesticides, fertilizers. and such. Commercially grown strawberries in general are on the top of the EWG Dirty Dozen list – they rank #1 on the 2019 list meaning that they contain high levels of pesticides. When you grow your own you can limit the amount of chemicals you use or you can choose to grow organically.
Great investment. They are perennial meaning you buy them once and they will grow every year. And most varieties of strawberry plants self-propagate meaning that each plant will reproduce multiple other plants each year. This means more berries every year with one investment.
Easy to grow. Strawberry plants love full sun yet they are adaptable. They can be grown in the ground, in a pot, or in just about any type of container that will hold dirt. If you have children or grand children, strawberry plants are a wonderful introduction to gardening – they don't require much yet produce a delightful harvest. And, if you have any questions, your friends at Sunflower Farms are here to assist.
What's Next?
If you're looking for a simple way to use your strawberries, look no further than this recipe for strawberry and Nutella hand pies! (You may even have all the ingredients at home already.) These portable treats are the perfect size for a single serving, easy to share, and take only 20 to make minutes from start to finish. They are also the perfect dessert to make with kids–a great way to get the whole family cooking!
Strawberry Nutella Hand Pies
This recipe was submitted by a Sunflower Farms customer. We hope you'll enjoy it.
12 fresh strawberries
1/2 cup Nutella or other chocolate hazelnut spread
1 piecrust (store-bought or home made)
1 egg
2 tbsp Demerara Sugar or other large grain sugar
Preheat oven to 375F.

Prepare strawberries by gently cleaning them with a damp cloth or paper towel. Cut them into chunks and set aside.

Roll out pi crust and cut into 8 equal pieces using a knife or pizza cutter. If you prefer to have half-moon shaped pies, use a large glass or cookie cutter to cut round pieces.

Spread about 1 tablespoon of Nutella on 1/2 of each pie crust, leaving some room around the edges. Place a large spoonful of berries onto Nutella.

Fold the pie dough in half pressing the edges gently to close. Using a fork, crimp the edge to seal. Place each pie onto a backing sheet lined with parchment paper. Pierce each pie one time with a fork to vent.

In a small mixing bowl, whisk the egg. Using a pastery rush, brush the top of each piel with egg and then sprinkle sugar on top of each pie.

Bake pies for 10-15 minuets or until tops are golden brown. Let cool for 10 minutes before serving.
Looking for other Strawberry recipes? Take a look at our Super Simple Strawberry Sorbet and Spinach Salad with Strawberries and Tangy Dressing. You'll find additional strawberry recipes here.
We know that you'll love growing your own strawberries and using them in your cooking. Stop by Sunflower Farms Nursery today and get growing.
Other Articles You'll Enjoy
Stay Informed! Join Our Mailing List
Upcoming Events
There are currently no events.