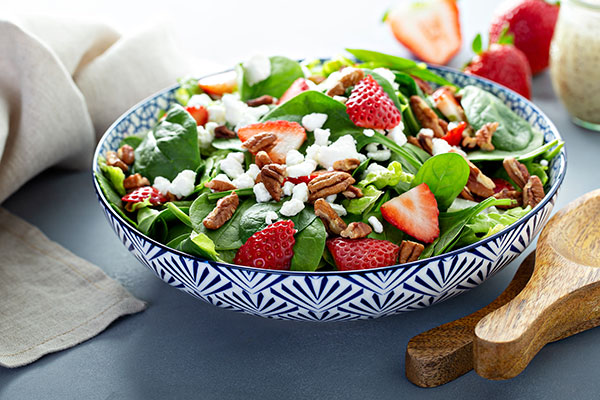 Spinach Salad with Strawberries & Tangy Dressing
Here is one of the best reasons on earth to plant your own strawberry plants… a colorful, delicious, healthful salad that your whole family will enjoy.
The star of the show is the fresh, juicy strawberries, so sweet that you can taste the sunshine trapped inside. We pair the berries with tender spinach, salty feta cheese, and crunchy nuts, topped off with a tangy balsamic dressing.
Is your mouth watering yet?
The best part of this recipe is that you can swap any ingredient to make an equally scrumptious salad that you can serve for brunch, lunch, or dinner. Here's the basic formula:
Greens + fruit + cheese + nuts + dressing = happy mouth & tummy
So try or spinach salad with strawberries, pecans & feta cheese. Then try an arugula salad with pears, walnuts, and goat cheese. Then try a mixed greens salad with apples, sunflower seeds (our favorite!) and parmesan cheese. The combinations are endless… Let us know your favorite.
Spinach Salad with Strawberries & Feta with a Tangy Dressing
This salad has the flavors and textures you love in a fresh summer salad – sweet, salty, crisp, juicy, crunchy.
For the salad
2 cups ripe strawberries – home grown if possible
6 cups spinach or your favorite mix of greens
1/3 cup crumbled feta cheese
1/3 cup pecans
salt and pepper
For the dressing
1/4 cup apple cider vinegar
2 tbsp balsamic vinegar
1 tsp Dijon mustard
1/4 tsp oregano
salt and pepper to taste
1/3 cup olive oil
Gently rinse the strawberries. Dry, hull, and slice in half or in quarters

Rinse the spinach, spin or pat dry, and remove any big stems

Toast the pecans in the toaster oven or in a small frying pan over medium heat until just fragrant. Watch them carefully as they'll burn before you know it. Chop and let cool.

Add all salad ingredients to a serving bowl.

Make the dressing by whisking together the vinegars, mustard, and spices. Gradually whisk in the olive oil until the dressing is fully emulsified. Taste and adjust seasoning as necessary.

Lightly dress the salad and toss gently to mix. Put remaining dressing in a cruet or bowl.
Looking for another fun strawberry recipe? Click here for a simple Strawberry Sorbet made with or without an ice cream maker.
Other Articles You'll Enjoy
Stay Informed! Join Our Mailing List
Upcoming Events
There are currently no events.