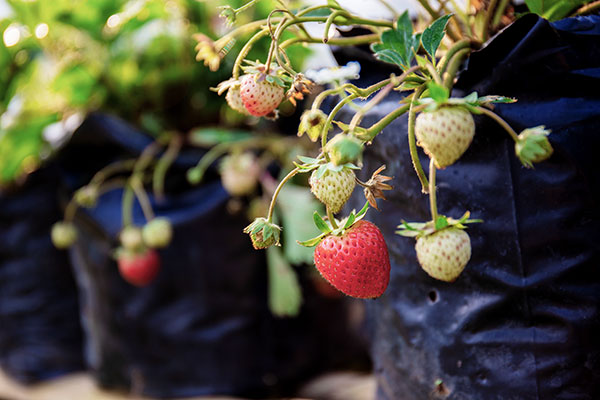 Grow Your Own Strawberries and Enjoy the Taste of Summer
If you've lived in the South Bay for a while, you might remember the fruit stand on Crenshaw next to Zamperini Airfield that always sold the best strawberries–I know I do! Nothing tastes like summer quite like a bunch of juicy, sweet strawberries, and Sunflower Farms has everything you need to grow your own bounty of these delicious fruits.
They say that fruits and vegetables are often shaped like the part of your body that they are good for, so it might not come as a big surprise that strawberries are great for your heart!
Here are some great reasons to grow your own strawberries
Believe it or not, one serving of strawberries (about 8 berries) actually has more vitamin C than an orange!

These juicy berries are also packed with fiber and antioxidants

The type of antioxidant that is found in high quantities in strawberries (known as polyphenols) is thought to help reduce the risk of developing type 2 diabetes.

Strawberries can increase HDL (good) cholesterol.
Growing strawberries is very easy! You can plant in the ground or in strawberry pots.
Sunflower Farms has lots of strawberry plants in stock!
Here are a few strawberry recipes to get whet your appetite
This Healthy Strawberry Lemonade is the perfect naturally-sweetened refreshing drink for summer!
These Strawberry Banana Popsicles are a delicious, creamy treat that are easy to make and perfect for keeping in the freezer all summer!
A fast, easy and nutrient packed breakfast perfect for hectic mornings. Prep it all the night before to make breakfast on the go a delicious tasting breeze.
A fresh, sweet, tangy appetizer, inspired by Mexican flavors, made in just one bowl.
Stop By Today
Sunflower Farms is loaded with strawberry plants plus everything you need to plant and care for them. Our staff will clue you in to tricks and tips for getting a great harvest. Have questions? Contact us!
–RAA
Other Articles You'll Enjoy
Stay Informed! Join Our Mailing List
Upcoming Events
There are currently no events.