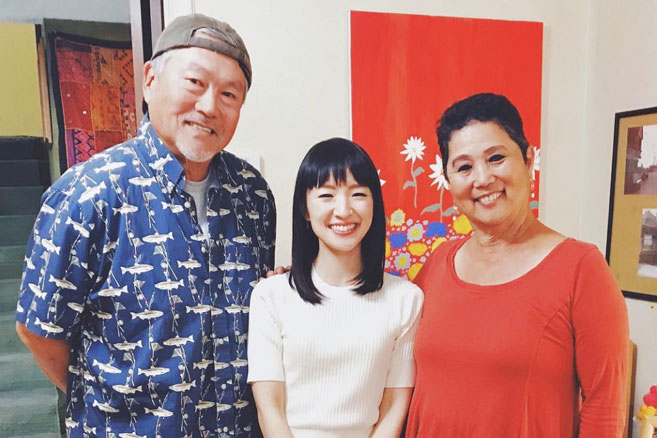 Sparking Joy with the Akiyama Family
There are many privileges I claim being part of the team here at Sunflower Farms, but as a family business one of the greatest is sharing the amazingness that is Wendy and Ron Akiyama, my parents.
Almost a year ago I had the chance to connect with the team putting together a show to be aired on "a streaming platform." They were looking for a couple who could be thought of as "empty nesters" who would be interested in tidying up their home. With three generations of my family's history in the form of a menagerie of memories, belongings and keepsakes around the house, I knew they would be the perfect pair.
With Marie Kondo's help, over the next several months a transformation of our family home took place, and what's more, a transformation in my parents' attitudes about the "stuff" that can so easily pile up with the passage of time. Words cannot express how proud I am of them and the immense work they did to not just tidy up their home but also demonstrate their connection to each other and the attitude that no task is too great for them to tackle together.
Tidying Up with Marie Kondo premiered on Netflix last month and our family cannot be happier with the wide and positive effect it has had for so many who are realizing they can take back control of their space and all the while be keen on "sparking joy." I encourage our readers and friends to check out my parents' Instagram page (@ronandwendyakiyama) to keep up on all the happenings and discussions about our experience and how it can be applied to nearly everyone.
We look forward to continuing "sparking joy," whether through our lives inside or in our experiences outside in the vast beautiful world of nature and plants. We also invite and encourage you to reach out with your questions, experiences or thoughts. Coming together knows no bounds, we thank you so much for all of your support, and are excited to see you here soon at Sunflower Farms.
-RAA
Other Articles You'll Enjoy
Stay Informed! Join Our Mailing List
Upcoming Events
There are currently no events.