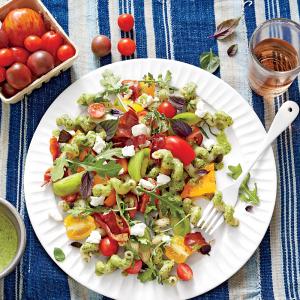 Pasta with Heirloom Tomatoes, Goat Cheese, and Basil
Recipe of the Season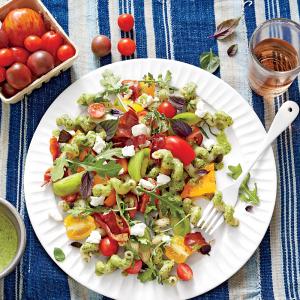 Pasta with Heirloom Tomatoes, Goat Cheese, and Basil
Ingredients
12 ounces uncooked cavatappi pasta
3 tablespoons olive oil, divided
4 ounces country ham, thinly sliced
1 1/2 pounds heirloom tomatoes, chopped
4 cups loosely packed arugula
1 cup crumbled goat cheese
15 fresh basil leaves, cut into thin strips
3 tablespoons chopped fresh flat-leaf parsley
1/2 teaspoon dried crushed red pepper
Herb Vinaigrette (recipe below)
Kosher salt
Freshly ground black pepper
Preparation
Prepare pasta according to package directions for al dente. Toss together pasta and 1 Tbsp. olive oil in a large bowl.
Cook ham in remaining hot olive oil in a skillet over medium-high heat 1 minute on each side or until crispy. Drain on paper towels. Break ham into small pieces.
Add tomatoes, next 5 ingredients, and 6 Tbsp. vinaigrette to pasta; toss gently. Add salt and pepper to taste; top with ham. Just before serving, stir in remaining vinaigrette.
Herb Vinagrette
Ingredients
2 tablespoons red wine vinegar
1 tablespoon fresh lemon juice
4 small garlic cloves
1/2 cup canola oil
12 fresh basil leaves
1/2 cup fresh flat-leaf parsley leaves
1/2 cup grated Parmesan cheese
Kosher salt
Freshly ground black pepper

Preparation
Process vinegar, lemon juice, and garlic cloves in a food processor until smooth. With processor running, pour oil through food chute in a slow, steady stream, processing until blended. Add basil leaves and parsley leaves, and process until smooth. Add Parmesan cheese; pulse to combine. Stir in kosher salt and freshly ground black pepper to taste. Serve immediately, or refrigerate in an airtight container up to 5 days.
Recipe from SouthernLiving
Photograph by Hector Sanchez
Other Articles You'll Enjoy
Stay Informed! Join Our Mailing List
Upcoming Events
There are currently no events.