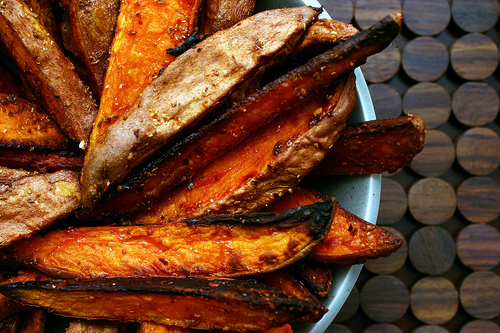 Roasted Garnet Yams with Cinnamon, Orange Blossom Honey, Sage, and Clove Butter
Recipe of the Season
By Executive Chef Andy Najpauer, The Private Chefs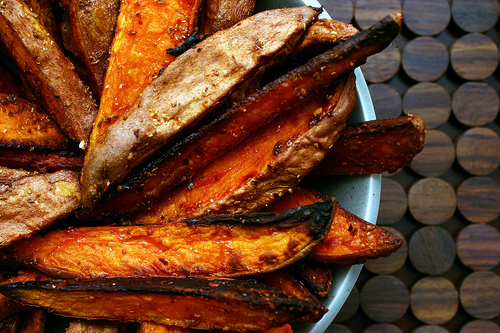 Ingredients
4 large Garnet yams
2 T coconut oil
6 cinnamon sticks
1/4 tsp ground cinnamon
1/4 tsp ground clove
1 T chopped sage (4 sage leaves)2 T orange blossom or plain honey
1/4 tsp vanilla extract
1/2 stick butter
Zest of 1 orange
Pinch of cayenne pepper
Kosher salt & ground pepper to taste

Garnet yams can easily be substituted with sweet potatoes but I like yams because of their rich orange color.
Cut the yams in equal sized wedges around 1/2″ thick by 3″ long. I prefer thicker slices so more caramelization forms on the yams
Toss the cut yams in coconut oil along with the ground cinnamon, cayenne pepper, vanilla extract, sage, salt & pepper.
Place the marinated yams on a baking sheet large enough so the yams do not overcrowd.
Cut the butter into 6 thin slices and scatter the slices over the yams. On each slice of butter place 1 cinnamon stick and equally distribute the ground clove.
Grate the orange zest and drizzle the honey equally over the yams.
Roast in the oven @ 350* for around 35 minutes. Stir the yams once around the 15 minute mark. 35 minutes is an estimate. The yams should be golden brown with slightly burnt tips when done.
Remember, potatoes and yams often need more salt than you think. Be liberal with the salt so that the natural sweetness stands out.
Garnish with additional chopped sage and a drizzle of honey.
For more information about making entertaining easy with The Private Chefs, contact Chef Andy.
Other Articles You'll Enjoy
Stay Informed! Join Our Mailing List
Upcoming Events
There are currently no events.