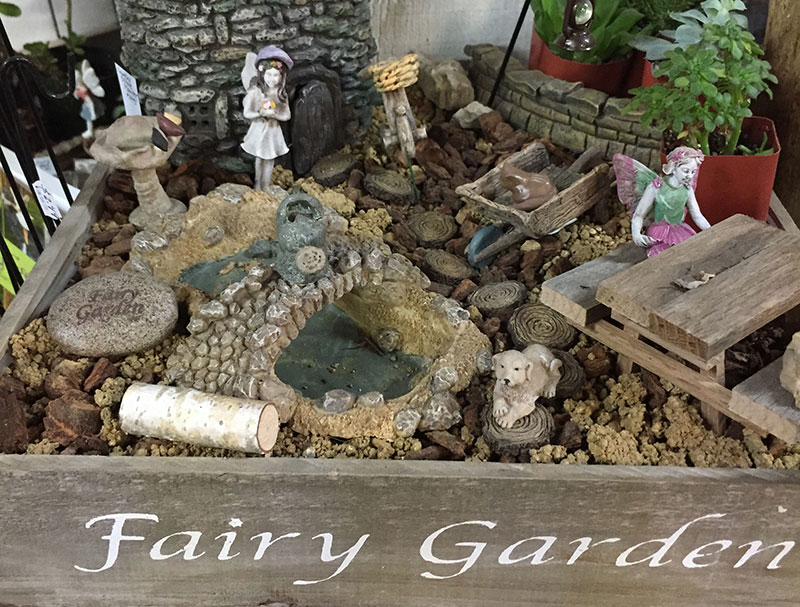 How to Make a Fairy Garden
Looking for a super fun weekend or rainy day project?
With the right supplies and a little bit of imagination you (or your children) can make a delightful miniature fairyland. Sunflower Farms has everything you need to make a magical fairy garden happen.
Here's how!
Oftentimes people find it helpful to first choose a "setting" for their fairies. While organizing miniature buildings and structures on a flat surface alone can create this effect, a compact, easy solution is to begin with a "tree".
You have lots of options and you don't necessarily need an expensive bonsai! Succulents like Jades and "Elephant Food" (portulacaria afra) grow with the appearance of trunks, as do Aralia's and Dracaena's, which are will do well indoors.
Once a tree is chosen, it can either remain in the container it was bought in (depending on that plant's requirements) or be planted in a slightly larger pot or container. Either way, there should be enough exposed ground around the base of the tree to allow for placement of fairies, accessories, and even smaller plants to act as bushes or to add texture and whimsy. Finally, a fairy or multiple fairies can be placed along with whatever other accessories are wanted. Some favorites include:

Slides
Chairs or benches
Mushrooms
Pathways
Bicycles
Swings
Cottages, Houses, Barns
Gazing balls
Wheelbarrows
Animals
Anything you can think of, really!
Some other fun ideas for plants in your fairy garden include Rosemary, Mint, Succulents, and moss. There's no limit except your imagination.
Want some ideas?
Take a look at Our Fairy Garden board on Pinterest. And then come by Sunflower Farms to see our huge selection of plants, accessories, and of course, fairies!
Other Articles You'll Enjoy
Stay Informed! Join Our Mailing List
Upcoming Events
There are currently no events.